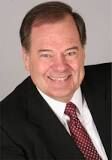 Rick May (Richard J. May) was a Canadian-American writer, actor and voice actor born on the 21 September, 1940.
He was known for his voice acting work in various video games. Those include the voice lines for the Soldier in Team Fortress 2 (As well as the Meet the Soldier and Expiration Date shorts), Peppy Hare and Andross in the 1997 video game Star Fox 64 and Dr. M in the 2010 game Sly 3: Honor Among Thieves,.
On February 2020 he suffered a stroke before being rushed to a hospital where on April 8, 2020, at the age of 79, Rick May passed away due to complications with COVID-19.
Later on May 1, 2020, an update to Team Fortress 2 added Rick May statues to various official maps. The statues will only appear during the month of May. A new soundtrack was also made by Valve called Saluting the Fallen, a rendition of 'Taps'.
A permanent statue was later added to cp_granary, the location of the Meet the Soldier video. The statue can be found inside a run-down silo near Red's first control point.
Community content is available under
CC-BY-SA
unless otherwise noted.